Have you tried other treatments and you're still not feeling well?Our Holistic approach may
help
____________________________________________________________________________________________________

Az Tahir MD. Holistic Internal Medicine Specialist
ROCHESTER & SYRACUSE
TOTAL HEALING: Linking the missed links
"Dear Dr. Tahir, Thank you for another wonderful visit; I left feeling
even more refreshed and confident than the first time. I want to thank you
again for all that you have done for me in this short time. I am a new
person! With your help, I am piecing together the parts that were
missing before. I appreciate everything and so does my family; I am
able to live again. Sincerely, M. B." ( Rochester, NY)
Read more Success Stories & Testimonials
WE DO ACCEPT HEALTH SAVING ACCOUNTS
888-963-6033

________________________________________________________________________________________________________________________________________________________
EFFECTIVE CARE FOR
Hypothyroidism.
Hashimoto's Thyroiditis
Adrenal Fatigue
Leaky Gut
Resistant Obesity
Hormone Imbalance
MTHFR Gene abnormality
Anti Aging

Holistic approach for conditions not responding to other Treatments
(HEALING MADE EASY)


" Dr. T. I just wanted to tell you that I'm feeling rather better/different today, thanks to your treatment yesterday and probably our talk as well! I truly
appreciate you, your knowledge and your commitment to health and well-being." T.D. Syracuse. NY
_____________________________________________________________________________________________________________________
_____________________________________________________________________________________________________________________


Some Testimonials and Success Stories CONTACT US
"Since seeing Dr. Tahir, I feel so much better. He ordered the correct
lab work to accurately diagnose my issue - hypothyroidism. I'm taking
the proper dosages of Nature throid now along with various natural
supplements that are keeping my levels where they should be. I drive
from Buffalo ,NY to see Dr. Tahir - he's a wonderful ,caring, patient doctor
who is genuinely concerned about his patients."
D.M. Buffalo. May 8,2014
_________________________________________________________________

" My name is M*** . I am an LMT I went to see Dr. Tahir for a lifelong
problem with hypertension. His kind demeanor and total professionalism
and holistic treatment zeroed in on the cause and within a short time,
using only natural supplements my blood pressure at last reading was
112/80. I highly recommend Dr. Tahir to every one who is experiencing
health problems and would like to treat it in a holistic manner "
M. W. (Rochester. NY)
_________________________________________________________________

" I am so grateful for Dr. Tahir . He is the first doctor that has treated my
thyroid disease effectively. He is the only doctor that has been willing to
offer me natural thyroid hormone therapy as well as extensive advice
on lifestyle, diet and stress issues that are related to treating my
Hashimoto's condition. In one month my cholesterol dropped over
100 points I am very excited to continue my quest for good health under
the extraordinary stewardship of Dr. Tahir" C.S. (Syracuse NY)
_________________________________________________________________


"Dear Dr. Tahir, Thank you for another wonderful visit; I left feeling
even more refreshed and confident than the first time. I want to thank
you again for all that you have done for me in this short time. I am a new
person! With your help, I am piecing together the parts that were
missing before. I appreciate everything and so does my family; I am
able to live again. Sincerely, M. B."
M.B ( Rochester, NY)

_________________________________________________________________

"I came to Dr. Tahir after being diagnosed with Psoriatic Arthritis. I
had a bad experience with the medication that was prescribed.
Dr.Tahir recommended an anti-inflammatory diet and a group of
natural supplements. After following this plan for 3-4 months, my
energy level has increased and my arthritis has not gotten any
worse. The best part is that he is treating me without drugs"
J.W. (Syracuse, NY)

_________________________________________________________________


" My experience with Dr. Tahir was wonderful. I was very ill and scared
when I came to him in Feb 2014. my Thyroid levels was bad and I was
on Synthroid and had a bad gluten exposure. I have Celiac disease.
He was so comforting and reassuring- I finally felt I would get better.
1 I also had a bad gall bladder disease , Gall Bladder that had to be
removed in March. He helped me with the understanding that I need to
eat a Paleo diet and 80 percent greens- I feel great and my weight and
energy is great . All my digestive symptoms are gone. & my thyroid
symptoms are gone . " J.C. ( Dr.) Syracuse, NY

_________________________________________________________________


"I have had to travel to Rochester for several years in order to meet
with a physician who would prescribe the only thyroid medication that
works for me, a natural dessicated thyroid. At last, Syracuse has such
a physician, Dr. Az Tahir, who treats the whole person from a very
holistic viewpoint. His was the most thorough initial exam I've ever had,
he listened to my concerns and is open-minded about the ideas I've
come up with from research and experience. There are few doctors
who recognize thyroid disorder and the role of adrenal fatigue in the
first place, few who understand the type and number of tests that
should be done for thyroid disorders and few who know how to interpret
test results in conjunction with symptoms. At last Syracuse has a
doctor who doesn't ignore you or say, "there's nothing more we can do.
" Working with Dr Tahir, you are in a partnership, not a dictatorship. Dr
Tahir also works in Rochester." Anonymous ( Online review)

_________________________________________________________________

" My experience with Dr. Tahir has been great. He's very encouraging . He
found health problems that I have been seeking help
for years. And treating them. His staff is also very nice and helpful. I would
and have recommended him to other!"
D.H.( Rochester NY )
_________________________________________________________________

"I am finally healthy !! Dr Tahir gave back my health" A.C. ( Syracuse, NY )

_________________________________________________________________

"Dr. Tahir MD is a God sent . He has the ability to see through your
discomforts and fix all your problems that you are concern with. He is so
sincere in healing your body from out side to the inside"
J. F.S ( Rochester, NY)

_________________________________________________________________

"I love working with Dr. Tahir. It is so nice to have a physician who listens
to me. Coming to an appointment is a joyful experience and I am just so
happy to be feeling like myself again- happy and energetic,not run-down
and exhausted. It was also nice to find out I did have something out of
balance medically and that my exhaustion wasn't all in my head like
some said it was."
J.R . (Rochester. NY)
_________________________________________________________________

"Dr. T. I just wanted to tell you that I'm feeling rather better/different today,
thanks to your treatment yesterday and probably our talk as well! I truly
appreciate you, your knowledge and your commitment to health and
well-being." T.D.(Syracuse. NY)

_________________________________________________________________

"Dr. Tahir takes the time to truly listen and understand; to discern and
treat root causes of problems using an integrative approach for health
and sustained wellness. He is a rare find."
P.M., to third party independent survey. ( 5 STARS)
_________________________________________________________________

"Dr Tahir is the best doctor I have seen after a long time. He listens,
he cares and he is very kind. Mostly he uses every approach
(conventional and alternative) to make his patient better. I have refer
him some patients and they are all happy.
Insurance: United Healthcare " Anonymous(On line review)

_________________________________________________________________

"It has been my pleasure getting to know Dr. Tahir. I am
thoroughly pleased with the care I have received from him. It is
a blessing to be able to go to a doctor who addresses my whole
being, body, soul, sprite. I always feel better after seeing Dr. Tahir, both
physically , emotionally. I 'm so glad to have found him and would
strongly encourage others to see Dr. Tahir and discover another
aspect of medicine and health care" M.M. Rochester, NY

_________________________________________________________________

"Dr. Tahir, Hope you remember us. You will always be the greatest Dr. we
have went to. C *(in wheel chair) did not like going to see Dr's but she
always liked going to you." (Received letter by mail)

_________________________________________________________________


"Dr.Tahir is one of the most compassionate, gentle, kind and
understanding doctors I know. He always allows a lot of time for our
appointments. I never feel rushed, misunderstood or judged.Dr. Tahir,s
extensive knowledge of FM and other autoimmune diseases is extensive.
I already see an improvement in my health since seeing him. I look
forward to our appointments and continued improvements for my
general well being. I strongly recommend Dr. Tahir for everyone. "
M.H from Syracuse at Doctor Base Verified Review Site ( 5 out of 5 Stars )

_________________________________________________________________

"Best doctor I have seen after long time."
Anonymous at Doctor Base Verified Review Site ( 5 out of 5 Stars)

_________________________________________________________________

"My experiences with Dr. Tahir have all been positive. He is very
thorough and takes time to listen to each concern. I appreciate his use
of both western and alternative medicine."
Anonymous at Doctor Base Verified Review Site ( 5 out of 5 Stars)

_________________________________________________________________

"It was all great" Anonymous at Doctor Base Verified Review Site
( 5 out of 5 Stars)

_________________________________________________________________

"great information want to get message for legs, great office" E.T Rochester
At Doctor Base Verified Review Site ( 5 out of 5 Stars)

_________________________________________________________________

"Friendly, kind, helpful, relaxed, unlike any other doctor's visit."
Anonymous at Doctor Base Verified Review Site ( 5 out of 5 Stars)

_________________________________________________________________


"We find Dr.Tahir to be such a warm and loving Doctor. Our whole family
goes in together and He is very patient with our young children and really
listens to us, as well as offers wellness advice. We would recommend our
Doctor to anyone! "
Anonymous at Doctor Base Verified Review Site ( 5 out of 5 Stars)

_________________________________________________________________

"Friendly and informative" Anonymous at Doctor Base Verified
Review Site ( 5 of 5 Stars)
_________________________________________________________________

"I have been very impressed with the level of service and also the
amount of time the dr. spends with me. Never feel rushed and my
questions are always answered"
Anonymous at Doctor Base Verified Review Site ( 5 of 5 Stars)
_________________________________________________________________

"Dear Dr.Tahir, I just want you to know that I appreciate all the care
you have given me as a patient and I think that you are a very good
doctor.YOU ARE ONE OF THE BEST .
Sincerely, F.B." (hand-written card received by mail)

_________________________________________________________________

"I would highly recommend Dr. Az Tahir to anyone who has been
frustrated by the medical system or who doesn't feel they are taken
care of by their doctor.Thanks for improving my life!
I.H." (Posted by independent web site)
_________________________________________________________________

"Thank you for all your help with my problem. Life is good again!." C.K.
(received card by mail)

_________________________________________________________________

"I remember how wonderful you were before and after my mother's death.
You are a very compassionate doctor. Sincerely D and L"
(Hand-written letter received by mail)

_________________________________________________________________

"Dr. Tahir, Thank you so much for being such an awesome doctor…..
You are a great doctor, Dr.Tahir, and I want to thank you for treating
me." L. J. (Received card in mail)

_________________________________________________________________

"You are kind, compassionate, honest doctor" B.V. (Card by mail)

_________________________________________________________________

"I recently switched to Dr. Tahir and my experience has been
extremely pleasant. Dr. Tahir is knowledgeable, professional and
extremely kind and sensitive to the needs of his patients. What
I like most is that every visit is unrushed and he makes sure all
of your questions are answered." R.P.(Rochester, NY)

_________________________________________________________________

"Dr. Az Tahir, MD, is a true gift to the Upstate New York community,and to
me in particular. I'm a 54-year-old woman who's been living with a medical
issue of unknown origin for the past two years, and Dr. Tahir has used
compassion, understanding, and a holistic approach to help me get better.
Besides prescribing a number of helpful healing tools such as nourishing
supplements, meditation techniques, exercise and healthy dietary
suggestions, he has been an unfailingly kind, supportive, intelligent and
healing presence. I would highly recommend Dr. Tahir to anyone
interested in a functional medicine approach in the mode of Dr. Andrew
Weil or Dr. Deepak Chopra—that is, an approach that addresses the
whole person, and to the fullest extent possible, uses natural rather
than "Big Pharma" methods to help people regain wellness."
T.A. (Syracuse. NY)

_________________________________________________________________

"Dr. Tahir has convinced me that natural,"out-of-network treatments"
are more effective than traditional Western Methods. His office is
warm and his demeanor is friendly, so visits are always something
to look forward to." A.W. (Rochester NY)

____________________________________________________________

"Hello Dr. Tahir, I am doing great! I have not had any panic attacks. I
have only used ……. on one occasion and it immediately calmed me
down-just one pill was good enough. My nerves eased and I was still
able to function and not feel sleepy. I decided not to take it everyday
because I had already felt so much better after our first meeting.".
M.B. (Rochester NY)

_________________________________________________________________


"You are a brilliant diagnostician, working 24/7 for your patients….
You have a rare and special gift of humanness and compassion for
each and every patient, I know I would not have survived all these
years without your gentle guidance, and I am a better person for your
kindness."
L.F.( Received letter in mail)

_________________________________________________________________

"Dr.Tahir is: a friendly, kind, caring, compassionate, professional,
sincere. I am 66 years old, and Dr.Tahir is the only doctor who ever
said with sincere compassion, "I am so sorry that you suffered so
much." And he really meant it, and he suggested trying a gluton
free and lactose freediet and it really worked, and my itchy rashes
went away." S.H .Posted by patient on LinkedIn.

_________________________________________________________________

" My daughter was having severe stomach issues for several months. We
were getting scared because she was having a bloody discharge during
her bowel movements. We found Dr. Tahir and in just a couple of months
she has imprived tremendously! She followed Dr. Tahir's suggestion
and look the recommended supplements and she is feeling so much
better. He is very thorough and he takes the time to listen to all
your concerns. You don't find that with most Doctors today. He
explains everything in terms that are understandable too. We couldn't
be more pleased with our experience!
Sincerely L L" Syracuse.

_________________________________________________________________

" I am very appreciative to have such a wonderful doctor helping me.
Dr, Tahir truly cares about his patients, and he listens. It is
because of him that I am getting my life back." K.L. Seneca Fall, NY


_________________________________________________________________

"I have lost 14 pounds and my blood pressure readings are normal. My vision is
not blurry at a distance and my reading glasses almost feel too strong now!
Thank you Dr. Tahir. You are my hero!" L. F. Naples , NY

_________________________________________________________________


"Dr. Tahir is very kind and through. He has helped my daughter find a
path to healing when no one else could. He is a true healer of mind,
body, and soul. Dr Tahir has given my daughter her life back!"
S.K. Honeoye Falls NY

_________________________________________________________________

"YOU ARE A VERY GOOD DOCTOR. K.H." (Card by mail)

_________________________________________________________________


:" Dr. Tahir is an excellent listener. He has many different treatment
options and provides advice that goes to the heart of my health
problems. He advises to change one's perspective and habit. He does not
simply pus a pill and say" done". like so many other physicians I have
encountered. " I actually believe he can help me get better."
L. M.Syracuse
_________________________________________________________________




"Dr. Tahir has helped to identify problems with my health that
previous doctors have dismissed. He listens to my concerns and works
with me to find solutions that fits me individually" L C
Syracuse
_________________________________________________________________

"Dr. Tahir is very warm and kind doctor. He listens to my concerns.
Since being here I have felt an increase in energy, I sleep better at
night and I have less depression" N.S. Syracuse

__________________________________________________________________

"I appreciate the attention to details, the true concern for well
being, and the conviction to heal. It is a very calm and relaxing
environment. in which patients can release stress and focus on
healing . Dr. Tahir is extremely knowledgeable about modern and
alternative medicine and his ability to help patients heal is truly
amazing" C. P. Rochester

__________________________________________________________________


" Since meeting Dr. Tahir I have looked forward to the next
appointment, anticipating becoming more and more healthy. Dr. Tahir is
a wonderful, caring and knowledgeable person. I have been comfortable
in his care from day one and will be continuing this journey with him"
V. F. Syracuse
_________________________________________________________________

" I found Dr. Tahir while seeking holistic treatment for Lyme Disease.
A Lyme infection had been doing damage to my body and soul. Dr. Tahir
fixed every thing! I am healthy ,pain free ,and happy. All this in a
matter of 4 months. And I name Dr. Tahir to thank for this.
P.S. Follow Dr. Tahir"s diet recommendations. You will be glad you did!"
N.R. Rochester
_________________________________________________________________


" I 'm very happy to have met Dr. Tahir. He is a friend and very good
man.He has helped me cross many hurdles.I feel I accomplished many
good things because of his help. It is awesome!!! Dr. Tahir is very
effective right from start. You can see the results immediately "
S.S. Rochester
________________________________________________________________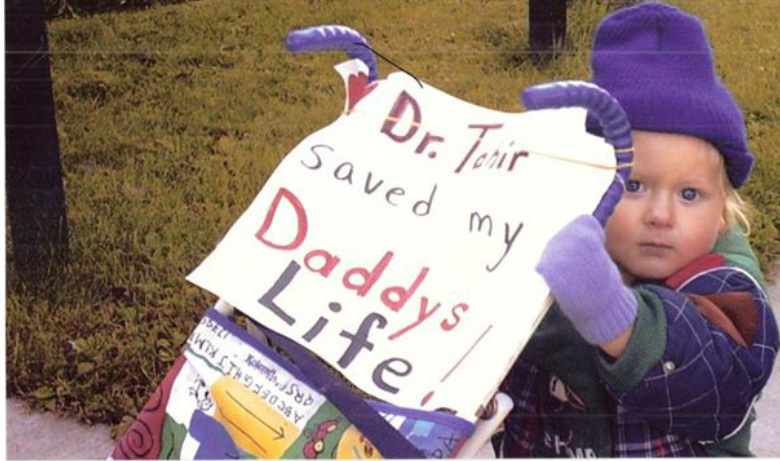 "DR TAHIR SAVED MY DADDYS LIFE" A TRUE STORY
You have tried other treatments and still not feeling well?Our Holistic approach may
help
_____________________________________________________________________________
Millions and Millions of Americans have Hypothyroidism and they may even not be aware of it. They are either ignored or misdiagnosed for other diseases. Even when they are diagnosed, they are inadequately treated. Hypothyroidism may be associated with other hormones conditions like Adrenal Fatigue or other chronic ailments.
Are you one of them?
" My clinical experience has shown that relying solely on the blood
test to diagnose hypothyroidism will miss many hypothyroid individuals"
DAVID BROWNSTEIN , MD . Author ,Overcoming Thyroid Disorders
https://w3.newsmax.com/newsletters/brownstein/thyroid_video/video3.cfm
HOLISTIC CARE BY
DR. TAHIR MD IN ROCHESTER SYRACUSE NY
( Hypothyroidism, Natural Thyroid therapies with Armour, Nature-Throid and WP Thyroid, Thyroid Nutrition, Compounding Pharmacies Prescriptions, Hashimoto's, Adrenal Fatigue, Leaky Gut, Chronic Candida, Parasites, sibo, LDN therapy,
Bio- identical Hormones Therapies , Resistant Obesity , MTHFR care , Conditions not responding to conventional therapies )